The Billy Pugh personnel net has become the industry standard all over the world. It has saved and protected millions of riders over the years
                                                                                                 
X-800 is designed for offshore operations that need a "small footprint" for their personnel basket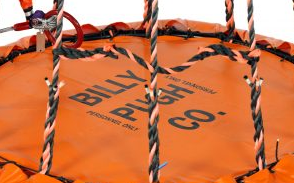 60 Years and Running
Others have tried to reproduce the X-800, but still can't reproduce the quality that is Billy Pugh Company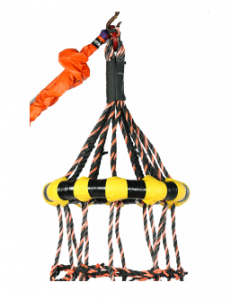 Many years ago in the infancy of the offshore industry, people were transported to and from offshore rigs and platforms with the use of a cargo net. Personnel would hang on to the outside of the net and be moved from boat to rig. Billy Pugh figured out quickly that this was a formula for some serious accidents. A new device was then designed by Billy Pugh as a safe transfer system that allowed personnel to embark and disembark quickly and safely. The Billy Pugh Personnel Transfer Net allowed workers to have the sensation of being inside the device, but also allows the freedom to get off and away from danger when in rough sea conditions.
The Billy Pugh personnel net became the industry standard all over the world. It has saved and protected millions of riders over the years and is a symbol of the offshore industry. Many a new offshore employee remembers his or her first ride on a personnel transfer net; it is almost a rite of passage. There have been many attempts to improve or even replace the personnel net but the basic idea and design is still in use around the world.
The X-800 is valid for 2 years from the In Service Date which is the date the device is removed from its packaging
Model
Description
Dimensions
Weight
X-870
4 person transfer net
72″ x 72″ x 16″
256 lbs
X-871
Recommended for rough seas, 4 person net
72″ x 72″ x 16″
270 lbs
X-871-6
6 person net, optional ABS Certification Report

84″ x 84″ x 16″
350 lbs
X-871-8
8 person net
94″ x 94″ x 18″
400 lbs
X-871-10
10 person net, optional ABS Certification Report

94″ x 94″ x 22″
500 lbs
X-871-12
12 person net, optional ABS Certification Report

126″ x 126″ x 22″
580 lbs
X-816
4 person net with 13′ load line
72″ x 72″ x 16″
240 lbs
X-840
4 person net with 60″ bottom ring
 60″ x 60″ x 16″
 245 lbs
A
Added air cushion designed to create a softer landing (especially in rough seas).
See FAQ below for more information. (Available for purchase)
D/C
Double cable safety load line available for purchase
ABS/ABS-CR
ABS & ABS-CR (Certified Report) is now available on all our X-800 and X-904's.
Product (optional but recommended)
Description
800 Series Storage Cover for nets
Vinyl storage covers available for X-816 through X-871-12; protects from UV rays and weather.
PNB-1 Storage Box
Billy Pugh Company storage boxes are custom designed for all-weather, year-round storage and protection.
Boxes available for the X-871-4 man through the X-871-12 man.
PTL-1
PTL-1 Tag Line 1 1/2″ overall diameter dipped, wrapped, stainless steel thimble eye on one end (conforms to API standards)